GIVE YOUR AUTOGAPHS THE MAXIMUM CREDIBILITY
HAVE THEM AUTHENTICATED BY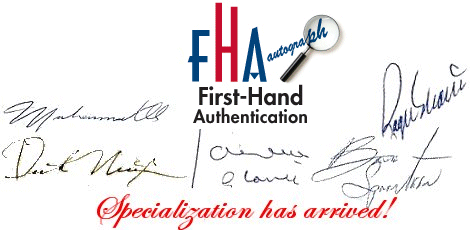 FEATURING
FIVE DECADES OF FIRST-HAND
AUTOGRAPH EXPERIENCE
OF
T. ALAN HARTMAN
REGARDED BY VETERAN HOBBYISTS AS THE ďBEST AUTHENTICATOR IN THE BUSINESSĒ
DID YOU KNOW THAT MOST AUTHENTICATIONS ARE DONE BY THOSE WHO NEVER EVEN MET THE PEOPLE WHOSE AUTOGRAPHS THEY AUTHENTICATE?
Then how do they KNOW whatís real and what isnít? In many cases they donít, they just guess. Sometimes they guess right, sometimes they donít. And when the latter occurs, the buyer is often left unaware! There is no guesswork at FHA!
NOW - FOR THE FIRST TIME
YOU CAN HAVE YOUR AUTOGRAPHS AUTHENTICATED BY SOMEONE WHO ACTUALLY MET AND OBTAINED AUTOGRAPHS FROM THE NAMES THEY AUTHENTICATE!
DON'T DEFACE YOUR ITEMS WITH UNSIGHTLY STICKERS!
GET A LETTER OF AUTHENTICITY FROM FHA!
A GREAT ALTERNATIVE TO ENCAPSULATION!
One of the pioneers of the autograph collecting field, T. Alan Hartman began collecting autographs in 1960. His heaviest collecting years were from 1960-1972, when he collected on almost a daily basis. He took a break taking a break from collecting for a couple of years in the mid-1970ís, then returned, collecting on a lighter, yet regular basis up thru the mid-1990ís. Since then, while remaining active in collecting, he has gradually decreased his autograph excursions, and today just ventures out for special occasions. He has met and obtained autographs from thousands of notables in sports, music, politics +. No other authenticator even comes close to matching Hartmanís level of First-Hand experience and longevity! Now, after many years of planning, Hartman brings his unparalleled experience to the authentication field.
What separates First-Hand Authentication from other authentication firms is specialization. FHAís T. Alan Hartman only authenticates the signatures of names he has considerable First-Hand knowledge and experience with. Why is this important? No one can be an expert on the signature of every celebrity who ever walked the planet. By limiting the names he authenticates to those he has vast First-Hand knowledge of, Hartmanís opinions of authenticity carry a unique type of credibility that other firms are unable to offer.
First-Hand Authentication specializes in the authentication of autographs of figures in sports, music, and other celebrities who were prominent from 1960-1972, and some beyond that time period. For more information on which names FHA authenticates, click on SERVICES and FEES (drop-down under the LOA link.)